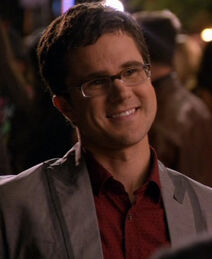 Zac McGalvin, played by Will Collyer, was a recurring character introduced in Melrose Place (2009), the fifth series of the Beverly Hills, 90210 continuity.
Zac was a famous director who attended N.Y.U. with Jonah Miller. They were good friends and Zac even needed Jonah's help on his first film school project. he later invited Jonah to the premiere of his big romantic comedy movie, where Jonah met some more big names in the industry.
Zac's movie was later said to be doing very well and Zac reunited with his college girlfriend, Tess, after declaring Jonah and Riley Richmond his inspiration for couples staying together, unaware that they had broken up.
Ad blocker interference detected!
Wikia is a free-to-use site that makes money from advertising. We have a modified experience for viewers using ad blockers

Wikia is not accessible if you've made further modifications. Remove the custom ad blocker rule(s) and the page will load as expected.