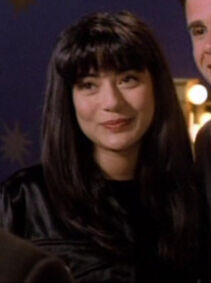 Wendy Stevens, was a character played by Marisol Nichols on Beverly Hills, 90210, the first series of the Beverly Hills, 90210 continuity. She appeared in the episode Ray of Hope in season 6.
Wendy was the fiance of Ray Pruit after he left Beverly Hills. She was the catalyst for Donna Martin and David Silver accepting a deal to work on Ray's latest music video. She was very friendly and Ray seemed like a different, calmer person with her around.
Ad blocker interference detected!
Wikia is a free-to-use site that makes money from advertising. We have a modified experience for viewers using ad blockers

Wikia is not accessible if you've made further modifications. Remove the custom ad blocker rule(s) and the page will load as expected.