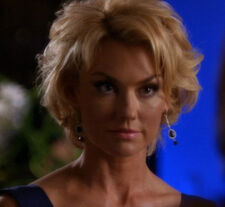 Wendi Mattison, played by Kelly Carlson, was a recurring character introduced in Melrose Place (2009), the fifth series of the Beverly Hills, 90210 continuity.
Wendi was a woman who worked at the Waverly Hotel. When Lauren Yung was caught trying to get business in her hotel with a hostile customer, Wendi gave her advice to get protected. Wendi later hired Lauren into her organization.
Wendi was repeatedly unhappy with some of Lauren's decisions, including one where she left in the middle of a job because David Breck showed up at her party spot.
Later, Wendi would blackmail Lauren about calling the medical board if she didn't do one last job, which turned out to be Michael Mancini, who had learned of her profession.