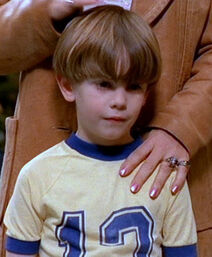 Tyler, played by Robert Bishop, was a recurring character seen in the fourth season of Melrose Place, the second series of the Beverly Hills, 90210 continuity. He appeared in Season 4.
Tyler was the daughter of Laurie, an old friend of Sydney Andrews from Chicago. They came to the Melrose Place Apartment Complex following a breakup between Laurie and her boyfriend, Tony. Although they initially wanted to stay with Sydney, her apartment was full, so they stayed with Jo Reynolds, who they met while waiting at the pool.
Jo slowly began to suspect Laurie was abusing Tyler and while babysitting him, took him to see Dr. Dominick O'Malley, who ruled out abuse.
However, it was later detemined after Dominick and Jo had a conversation with Laurie that it was her boyfriend, Tony, who had been hurting Tyler.
Ad blocker interference detected!
Wikia is a free-to-use site that makes money from advertising. We have a modified experience for viewers using ad blockers

Wikia is not accessible if you've made further modifications. Remove the custom ad blocker rule(s) and the page will load as expected.