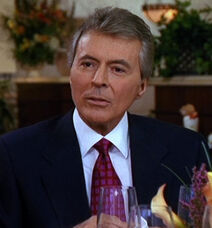 Tony Marlin, played by James Darren, was a recurring character introduced in Melrose Place, the second series of the Beverly Hills, 90210 continuity.
Tony was a potential client of Amanda Woodward Advertising, but Amanda Woodward had hurdles put into place in landing his account. After Amanda took Tony to the Upstairs, Tony opted to leave because he liked more sophisticated establishments.
He formed a crush on Eve Cleary and told Amanda that he would only sign with her agency if Amanda could help her sleep with Eve. Tony was a married man, but it was apparently common for him to cheat on her. With Amanda's help in distracting Peter Burns, he pursued Eve.
He took Amanda and Eve on a trip on his cruise lines, but Peter crashed the party, irritating Tony to no extent. Peter knew what Tony was up to and, at one point, shoved him into the pool.
Later, when Tony revealed the plan with Amanda to Eve, she roughly rejected him. After the cruise, Lexi Sterling approached him and won him over with her sex appeal, causing him to back out of his deal with Amanda.
After Tony and Lexi got together to seal the deal, Tony died before he could finish their encounter because of an overdose on performance-enhancing pills.
Ad blocker interference detected!
Wikia is a free-to-use site that makes money from advertising. We have a modified experience for viewers using ad blockers

Wikia is not accessible if you've made further modifications. Remove the custom ad blocker rule(s) and the page will load as expected.