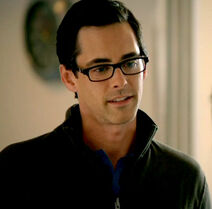 Toby, played by Adam Kaufman, was a recurring character introduced in Melrose Place (2009), the fifth series of the Beverly Hills, 90210 continuity.
Toby was the son of a patient who was being cared for by Lauren Yung. He asked her on a date while his mother was staying there. After the date went well, Toby, knowing she needed tuition money, propositioned Lauren to sleep with him in exchange for five thousand dollars.
She appalled at first, walking out on the date, but later showed up at his hotel and took him up on his offer.
Toby later called her and set her up with another friend, Rick Paxton, for whom she provided the same services.
Ad blocker interference detected!
Wikia is a free-to-use site that makes money from advertising. We have a modified experience for viewers using ad blockers

Wikia is not accessible if you've made further modifications. Remove the custom ad blocker rule(s) and the page will load as expected.