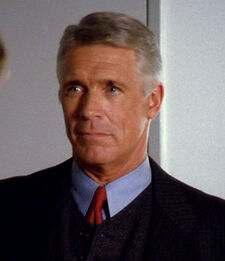 Thomas Sterling, played by Chad Everett, was a recurring character introduced in Melrose Place, the second series of the Beverly Hills, 90210 continuity. He appeared in season 6.
Thomas was the father of Lexi Sterling. He was a businessman and C.E.O. of Sterling Conway Enterprises and came to Los Angeles to open a West Coast Division, which he assigned to his daughter, Lexi. He did not approve of her relationship with Peter Burns and favored her first husband, Brett Cooper, even after their divorce.
He had a stroke and passed after a heated argument with Peter. he left a clause in his will, stating that Brett Cooper would inherit ten million dollars if he remarried Lexi within a year of his death.