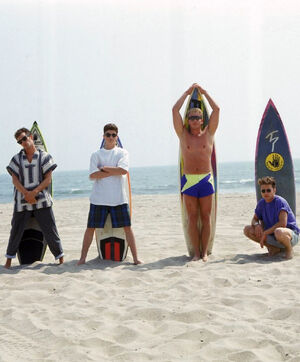 The Summer Seasons are story arcs of Beverly Hills, 90210 which aired throughout the summers of 1991 and 1992 (July and August specifically) in the United States.
About
These story arcs presented all-new episodes which followed the teenage characters during their summer vacations from high school. In the DVD releases, they are packaged as parts of Seasons 2 and 3 respectively. The concept was highly unique, as television shows typically do not present new episodes during the period between their annual finales and premieres. In more recent times, certain shows have begun offering new interval material in other forms, including shorts on the Internet, and television movies.
Episodes
1991
1992
1993
Season 4 only comprised two summer episodes
Ad blocker interference detected!
Wikia is a free-to-use site that makes money from advertising. We have a modified experience for viewers using ad blockers

Wikia is not accessible if you've made further modifications. Remove the custom ad blocker rule(s) and the page will load as expected.