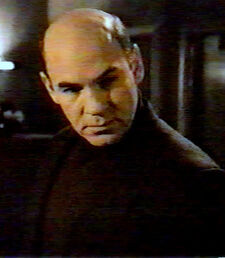 The Hitman, played by Mitch Pileggi, was a character introduced in Models Inc., the third series of the Beverly Hills, 90210 continuity.
The Hitman's name was never mentioned, but his influence in the series finale of Models Inc. was felt throughout the show. He was a sniper hired by Grayson Louder to kill Monique Duran and ruin her wedding to Adam Louder. The hitman and Grayson had a past and recognized each other during their first meeting, an allusion made to him having worked for her in the past made.
Before the wedding got underway, the hit man lured Carrie Spencer to a hotel, where he chloroformed her and shipped her off to Central America, where she ended the series in "hooker hell" under the watch of a pimp named Diego.
During the wedding, the hitman waited in the balcony for his opportunity. When the time came for him to fire, however, Daniel Louder got in the way, prompting Grayson to get in the way. in the alternate ending to the show, it was learned that the sniper's bullet hit Grayson in the head, killing her. It is not known what happened to the sniper after the wedding.
Ad blocker interference detected!
Wikia is a free-to-use site that makes money from advertising. We have a modified experience for viewers using ad blockers

Wikia is not accessible if you've made further modifications. Remove the custom ad blocker rule(s) and the page will load as expected.