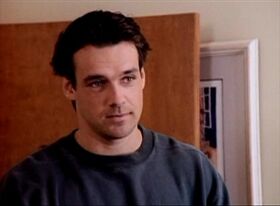 Terry Parsons, played by David James Elliott, was a recurring character seen on Melrose Place, the second series of the Beverly Hills, 90210 continuity.
Terry was a famous football player who began a romantic relationship with Alison Parker during their time in rehab. at first, he was hard on her, but he was essentially trying to push her away because was also sexually compulsive.
Once both recovered, however, he became unfaithful to her, prompting Alison to break up with him.
Ad blocker interference detected!
Wikia is a free-to-use site that makes money from advertising. We have a modified experience for viewers using ad blockers

Wikia is not accessible if you've made further modifications. Remove the custom ad blocker rule(s) and the page will load as expected.