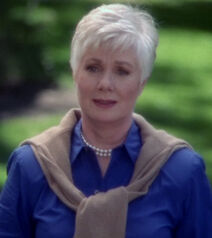 Teresa Lewis, played by Shirley Jones, was a recurring character seen on Melrose Place, the second series of the Beverly Hills, 90210 continuity. She appeared in the season 7 episode Where the Hookers Grow.
Teresa was the mother of Megan Lewis. She and Megan reunited when Megan returned home to visit after Coop left town. Victor and Teresa had hired a private investigator to find Megan, who had run away years earlier.
Teresa made Megan feel guilty when she told her that Victor had a stroke after learning that Megan had become a prostitute, though Michael figured out that it had been an aneurysm rather than stress. Teresa had just wanted Megan to stay, however, and was quickly forgiven for her deception before Megan returned home.