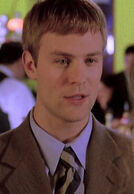 Ted Slavsky was a character played by Paul Kersey on Beverly Hills, 90210, the first series of the Beverly Hills, 90210 continuity. He appeared in Season 8.
Ted was a man who used to have an office where The Beverly Beat ended up opening. He frequently exchanged letters with Jill Reiter from that address, but when The Beverly Beat opened, Steve Sanders began receiving the letters and became enamored with Jill himself.
Steve arranged a meeting between Ted and Jill and the two seemed glad to see each other. Jill, however, later dumped Ted to go back to Steve.
Ad blocker interference detected!
Wikia is a free-to-use site that makes money from advertising. We have a modified experience for viewers using ad blockers

Wikia is not accessible if you've made further modifications. Remove the custom ad blocker rule(s) and the page will load as expected.