Summer Storm
Comment

1
1,065pages on
this wiki
Dylan's father
Jack McKay
, is taken into custody, and all his assets are frozen. Dylan refuses to spend the summer in Hawaii with his flaky mother
Iris
. He is injured in a surfing accident, and Cindy agrees to take care of him during his recovery. Jim and Brenda are unhappy with this arrangement. Jim catches Brenda and Dylan kissing and
orders Dylan to leave in two days. He sneaks out in the middle of the night and sleeps in a cabana at the beach club. Brandon finds him and convinces him to return to the Walsh house, where Jim helps him deal with his feelings about his father. Kelly gets a date with an
attractive classmate
Kyle Conners
, but is stung when he won't make a move on her. He admits that he is confused about his sexuality and it's presumed he is gay. Donna and David must perform a scene from Romeo and Juliet for their acting class.
Dylan at the Walsh's
Edit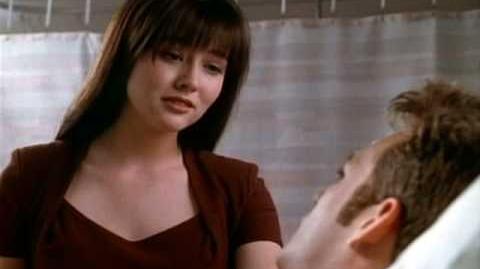 Jason Priestley as Brandon Walsh
Shannen Doherty as Brenda Walsh
Jennie Garth as Kelly Taylor
Ian Ziering as Steve Sanders
Gabrielle Carteris as Andrea Zuckerman
Brian Austin Green as David Silver
Douglas Emerson as Scott Scanlon(Credit Only)
Carol Potter as Cindy Walsh
Tori Spelling as Donna Martin
James Eckhouse as Jim Walsh
Luke Perry as Dylan McKay
Co-Starring
Edit
Ann Gillespie as Jackie Taylor
David Lascher as Kyle Conners
"Brandon, your dad is a lot of things, cool is not one of them." - Dylan McKay
"To be a bitch or not to be a bitch, that is the question." - Brenda Walsh
Cindy: Oh, Brenda, would you take this up to Dylan for me, please?
Brenda: Sorry, Mom, it was your idea, I'm not gonna play Nancy Nurse.
Cindy: Brenda!
Brenda: Well, what do you want, Mom? I mean, first you and Dad tell me not to sleep with him and then you tuck him in the next bedroom?


"My Body Says Yes" by Titiyo
"I Don't Get Much Sleep Anymore" by Chris Luke
"You Are The Everything" by R.E.M.