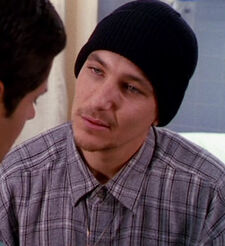 Spider Dodd, played by Bradford Tatum, was a recurring character introduced in Melrose Place, the second series of the Beverly Hills, 90210 continuity. He appeared in season 6.
Spider was a South Central gang member who made a deal with Michael Mancini to open up a clinic in his neighborhood. He approached Michael and made sure the neighborhood saw him shaking hands with Michael, citing that they would trust him with his approval.
However, after the clinic opened, Spider would bring his gang members there in order to be treated without being reported to the police. However, his goal was also to reciprocate protection to Michael, threatening Peter Burns when he thought he was shaking Michael down.
He later shot and died after coming into the clinic and giving Michael a key to a bus locker which contained a load of money.