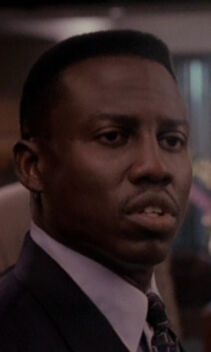 Ronnie, played by Mister Jones, is a recurring character seen on Beverly Hills, 90210, the first series of the Beverly Hills, 90210 continuity.  He first appeared in the Season 6 episode Buffalo Gals and appeared in a total of four episodes.
Ronnie was the killer bodyguard of Anthony Marchette, seen mostly by his side performing his duties. In his first episode, Dylan McKay followed Marchette and Ronnie into an elevator and got as far as the front door of his business before Ronnie stopped him and redirected him to the next floor.
The next time Dylan met Ronnie, they both pulled guns on the other under the table in a restaurant as Marchette threatened Dylan.
Ronnie appeared to be Marchette's right-hand man, always aware of Marchette's plans. In his arrogance, he revealed Marchette's plan to kill Dylan to Bruno, who tried to warn the newlyweds Dylan and Toni with half-success as Toni was the one who took the bullets.
Ad blocker interference detected!
Wikia is a free-to-use site that makes money from advertising. We have a modified experience for viewers using ad blockers

Wikia is not accessible if you've made further modifications. Remove the custom ad blocker rule(s) and the page will load as expected.