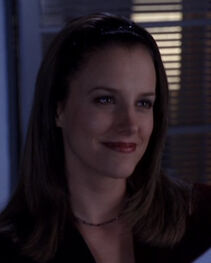 Robyn was a recurring character played by Brittney Powell on Beverly Hills, 90210, the first series of the Beverly Hills, 90210 continuity. She appeared in season 10.
Robyn was a secretary that David Silver dated after a bad experience with Gina Kincaid. David had gone onto the radio and began a tirade about nice guys finishing last. Robyn had found his on-air persona to be a jerk, yet still went out with him.
However, when David talked about his date on the air, Robyn wasn't happy. Although David tried to convince Robyn that his on-air persona was really just a character, Robyn couldn't get used to the idea and broke it off with him after too many bad experiences.
Ad blocker interference detected!
Wikia is a free-to-use site that makes money from advertising. We have a modified experience for viewers using ad blockers

Wikia is not accessible if you've made further modifications. Remove the custom ad blocker rule(s) and the page will load as expected.