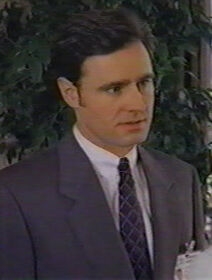 Richard Heller, played by Harley Venton, was a character introduced in Models Inc., the third series of the Beverly Hills, 90210 continuity.
Dr. Richard Heller was a sleazy psychiatrist who was brought in by Hillary Michaels to help Carrie Spencer cope with the loss of her son, Kyle Carson, and deal with the death of her sister, Teri Spencer.
However, he had his own motives and was soon sleeping with Carrie, as well as Hillary, though he lied to Hillary and told her Carrie was suffering a breakdown. Hillary chose to believe Heller over Carrie.
Heller had Carrie committed, but Sarah Owens went undercover to assess Heller after a plea from Carrie for help. Sarah was threatened by Heller and decided to stay out of it.
Later, however, Carrie wrote a letter to Hillary, prompting her to ask Sarah about Heller. Later, Heller was exposed as a liar and fired from his job.
Ad blocker interference detected!
Wikia is a free-to-use site that makes money from advertising. We have a modified experience for viewers using ad blockers

Wikia is not accessible if you've made further modifications. Remove the custom ad blocker rule(s) and the page will load as expected.