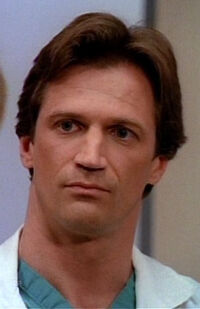 Dr. Paul Graham, played by David Beecroft, was a recurring character seen on Melrose Place, the second series of the Beverly Hills, 90210 continuity. He appeared in season 3.
Paul was a doctor at Wilshire Memorial Hospital and co-worker of Michael Mancini. he showed initial shock when he learned that Matt Fielding was gay and, afterwards, began to pursue him romantically, despite being married to his wife, Carol.
After spending the night with Matt, he forgot his beeper. Matt, trying to return it to him, inadvertently discovered Paul was married. The two had a spat, at which point Matt broke it off with him. Paul later told Matt he could no longer live a lie and wanted to leave his wife.
He then told Matt he and wife had separated so that he could be with Matt. He asked him to come to his home and help him move his things. However, he had set Matt up to make him look obsessed and left him standing out at the car while Carol wondered about his sanity.
He later told Matt that Carol had left him, but he ended up murdering her in cold blood and framed Matt to take the fall for it. Later, when Matt tried to trick Paul into confessing, Paul attempted to kill Matt, but the police arrived an shots were fired, with Paul getting a few bullets.
A few seconds before he died, he confessed and cleared Matt of all charges.