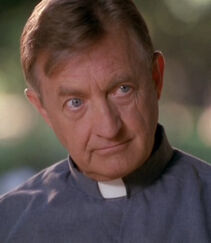 Pastor Neal, played by Ken Jenkins, was a recurring character seen on Beverly Hills, 90210, the first series of the Beverly Hills, 90210 continuity, appearing in the 10th season.
Pastor Neal was the minister who presided over the wedding of Steve Sanders and Janet Sosna. He also shared a philosophical discussion with Dylan McKay in Ojai after discussing Dylan's past and his possible future with Kelly.
Pastor Neal later baptized Madeline Sanders with Dylan and Kelly Taylor acting as godparents.
Ad blocker interference detected!
Wikia is a free-to-use site that makes money from advertising. We have a modified experience for viewers using ad blockers

Wikia is not accessible if you've made further modifications. Remove the custom ad blocker rule(s) and the page will load as expected.