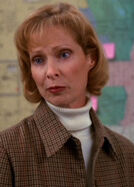 Pam Ahern was a recurring character played by Nancy Moonves on Beverly Hills, 90210, the first series of the Beverly Hills, 90210 continuity. She appeared in Season 8.
Pam was Kelly Taylor's boss at the foundation where she was employed. Pam debuted when Kelly needed help tracking down Erica Steele, a prostitute working for a pimp named Riggs. She accompanied them on their search for Erica and advised the on the ways to handle the situation.
Pam later resurfaced after a teenage mother, Leanne, abandoned her baby out of fear. She temporarily took the baby into custody until long-term care could be determined. The baby was eventually turned over to a gay couple, Kyle Vosler and Gene, to raise as their own.
Nancy Moonves later recurred as Dr. Nicki Long.
Ad blocker interference detected!
Wikia is a free-to-use site that makes money from advertising. We have a modified experience for viewers using ad blockers

Wikia is not accessible if you've made further modifications. Remove the custom ad blocker rule(s) and the page will load as expected.