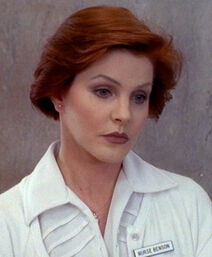 Nurse Benson, played by Priscilla Presley, was a recurring character seen in the fourth season of Melrose Place, the second series of the Beverly Hills, 90210 continuity. She appeared in Season 4.
Benson was a nurse at the Willowbridge Mental Institution where Peter Burns was held captive by a deranged Kimberly Shaw. Nurse Benson was one of the only employees in the asylum to have empathy for Peter. Though it was gradual, she eventually believed him when he said he was a doctor. After Michael Mancini and Amanda Woodward came looking for him, she aided in Peter's escape.
Ad blocker interference detected!
Wikia is a free-to-use site that makes money from advertising. We have a modified experience for viewers using ad blockers

Wikia is not accessible if you've made further modifications. Remove the custom ad blocker rule(s) and the page will load as expected.