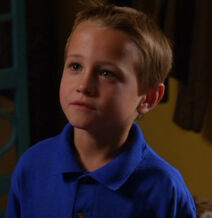 Noah Mancini, played by Cameron Casteneda, was a recurring character introduced in Melrose Place (2009), the fifth series of the Beverly Hills, 90210 continuity.
Noah was the son of Vanessa Mancini and David Breck. Although Noah was initially believed to be the son of Michael Mancini, it was revealed later that he was his grandson because David and Vanessa had been together before she married Michael.
Ad blocker interference detected!
Wikia is a free-to-use site that makes money from advertising. We have a modified experience for viewers using ad blockers

Wikia is not accessible if you've made further modifications. Remove the custom ad blocker rule(s) and the page will load as expected.