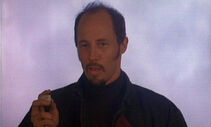 Mr. Trilling, played by Jon Gries, is a recurring character seen on Beverly Hills, 90210, the first series of the Beverly Hills, 90210 continuity.  He guest-starred in several episodes of Season 5.
Mr. Trilling was a dope dealer who met Dylan McKay while hanging out at a pool hall.  He was largely responsible for getting Dylan hooked on heroin, recommending it to him if he really want to get high.  After Dylan got high and crashed his Porsche, Mr. Trilling became worried that Dylan would turn him into the police.  After learning from Valerie Malone that Dylan was in the hospital, he sneaked into his room and threatened him before Iris McKay interrupted and Mr. Trilling left.
Mr. Trilling was not seen in the series after that, so it is assumed Dylan did not mention him to the police.
Ad blocker interference detected!
Wikia is a free-to-use site that makes money from advertising. We have a modified experience for viewers using ad blockers

Wikia is not accessible if you've made further modifications. Remove the custom ad blocker rule(s) and the page will load as expected.