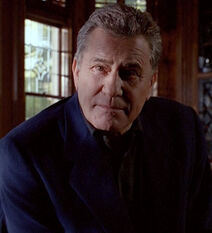 Mr. Beck, played by James Farentino, was a recurring character introduced in Melrose Place, the second series of the Beverly Hills, 90210 continuity. He appeared in Season 7.
Mr. Beck was powerful mobster who was good friends with Peter Burns. Their friendship was initiated when Mr. Beck approached Peter after his license had been suspended to do an experimental and illegal heart procedure on him. Mr. Beck had no other alternatives.
Mr. Beck was very loyal to Peter after the procedure was a success. When Peter needed a favor, Mr. Beck would help him with whatever the problem happened to be. Peter approached him to organize a phony kidnapping of Amanda Woodward to make Peter look like a hero when he saved her.
Ad blocker interference detected!
Wikia is a free-to-use site that makes money from advertising. We have a modified experience for viewers using ad blockers

Wikia is not accessible if you've made further modifications. Remove the custom ad blocker rule(s) and the page will load as expected.