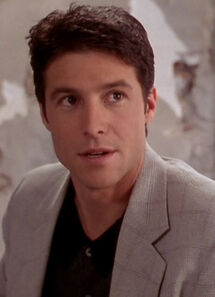 Mitch Field, portrayed by Mark Collier, was a recurring character seen on Beverly Hills, 90210, the first series of the Beverly Hills, 90210 continuity, appearing in the 10th season.
Mitch was an internet salesman who recommended to Donna Martin by David Silver. After he initially approached her, she declined the opportunity to take her designs to the internet. However, after Camille Desmond got Dylan McKay to finance the project, she changed her mind and warmed to Mitch, who wanted to date Donna.
Although they went out, Donna wasn't interested in him enough to keep the relationship going. Mitch, who set to launch her website, sabotaged the opening and locked the site until Donna went out with him again. Donna was furious, but Mitch later unblocked the site and let the business continue.