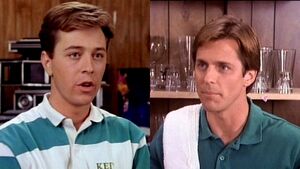 Mike Ryan, played in 4 episodes by Brandon Douglas and one by Jack Armstrong, is a recurring character seen on Beverly Hills, 90210, the first series of the Beverly Hills, 90210 continuity.
Mike Ryan is first seen in Season 4 and is the president of the KEG fraternity where Steve Sanders pledges. He is a fair president and is often seen doing the right thing, an example of which is helping Steve prevent John Sears from taking advantage of a young girl.
Later in the season, on his way to a Dodgers game, Steve and Brandon Walsh went to use the phone at a gay coffee house, where Steve spotted Mike with a guy. Mike admitted to Steve that he was gay, but begged him not to tell the fraternity. However, while dressing for the Guys of C.U. calendar, Artie Devers taunted Steve with implications of homosexuality, causing him to reveal Mike's sexual preference
Although Mike was angry at Steve, preparing to leave the fraternity in shame, they eventually mended fences when Steve stood up for Mike when Artie rallied the KEG brothers to vote out Mike. With Keith seconding Steve, KEG kept Mike as their president while Artie walked out on them.
Ad blocker interference detected!
Wikia is a free-to-use site that makes money from advertising. We have a modified experience for viewers using ad blockers

Wikia is not accessible if you've made further modifications. Remove the custom ad blocker rule(s) and the page will load as expected.