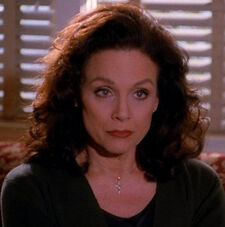 Mia Mancini, played by Valerie Harper, was a recurring character introduced in Melrose Place, the second series of the Beverly Hills, 90210 continuity. She appeared in season 6.
Mia was the mother of Michael Mancini and Jennifer Mancini, who arrived from New Jersey to visit her children. She was an avid fan of Dean Martin and spoke fluent Italian.
Mia arrived and her first order of business was to go with Jennifer to jail and bail Michael out after he assaulted Amber's boss. Mia slapped Michael for getting arrested.
Later, she mistook Billy Campbell for Craig Field, who had just supposedly fled town after stealing Jennifer's car. Jennifer begged Billy to pose as Craig while Mia was in town.
However, when Mia stumbled onto Billy making out with his wife, Samantha Reilly, she punched Billy in the stomach and called Samantha a tramp, but Jennifer quickly explained her deception, at which point Mia was touched that Jennifer went to all that trouble for her.
Later, Michael talked Mia into investing in his new clinic in the rough neighborhood, but that took a disastrous turn when a gang member named Spider Dodd used it as his own personal front.