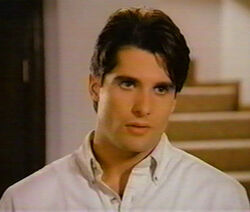 Mark Warriner, played by John Haymes Newton, was a character introduced in Models Inc., the third series of the Beverly Hills, 90210 continuity.
Mark was a kind stranger who came to the rescue of Sarah Owens after she had a car accident. Although the two began dating, Mark eventually told her that he had been studying to be a priest. Although he initially decided not to become a priest, Father Alan Wilson convinced Sarah to break up with him to let him follow the commitment he had already made.
Sarah later learned she was pregnant with Mark's baby, but she lost it after she was almost hit by a car. Mark came to see her one last time and stated he was moving to New Mexico to become a better priest. They said goodbye and this was Mark's last appearance on the show.
John Haymes Newton also played Ryan McBride on Melrose Place.
Ad blocker interference detected!
Wikia is a free-to-use site that makes money from advertising. We have a modified experience for viewers using ad blockers

Wikia is not accessible if you've made further modifications. Remove the custom ad blocker rule(s) and the page will load as expected.