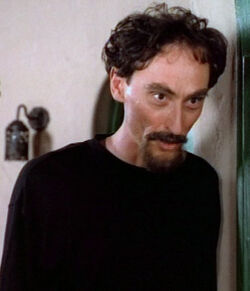 Mark Paul, played by John Durbin, was a recurring character seen on Melrose Place, the second series of the Beverly Hills, 90210 continuity. He appeared in season 4.
Mark was an actor hired by Michael Mancini and Sydney Andrews to impersonate Henry in order to drive Kimberly Shaw back into insanity. He seemed to only be happy to have a part to play, whether it was onstage or not. He first approached Kimberly in the laundry room after she was supposedly recovered.
He then hung around outside of her home, but Kimberly, believing that she'd go back to the hospital, told Peter Burns she didn't see anything. However, after she saw him another time, she found footprints outside of her home, leading her to discover that he was a real person.
When he showed up the next time, Kimberly chased him with a baseball bat and assaulted him until he told her that Michael and Sydney paid him to do it. She then fired him and he ran away and was not seen again.