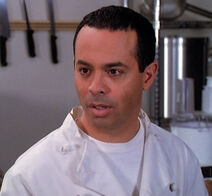 Mario, played by Dan Gunther, is a recurring character introduced in Melrose Place, the second series of the Beverly Hills, 90210 continuity, first appearing in the fifth season.
Mario was the chef at Kyle's and was usually seen working for Kyle McBride. He was the man who told Kyle about the fact that Amanda Woodward came in and punched Taylor McBride after her affair with Peter Burns was discovered by Amanda.
He was usually seen in scenes doing the cooking and had very few lines, but seemed to be on friendly terms with Kyle.
Ad blocker interference detected!
Wikia is a free-to-use site that makes money from advertising. We have a modified experience for viewers using ad blockers

Wikia is not accessible if you've made further modifications. Remove the custom ad blocker rule(s) and the page will load as expected.