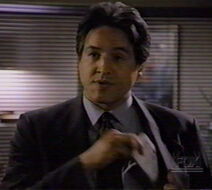 Lt. Louis Soto, played by Robert Beltran, was a recurring character introduced in Models Inc., the third series of the Beverly Hills, 90210 continuity.
Soto was the detective assigned to solve the murder of Teri Spencer. He struck up a brief romantic relationship with Hillary Michaels, despite her being a suspect in the case. He spent most of his stay on the series conflicted between his romantic feelings for Hillary and doing his job as a cop.
Ad blocker interference detected!
Wikia is a free-to-use site that makes money from advertising. We have a modified experience for viewers using ad blockers

Wikia is not accessible if you've made further modifications. Remove the custom ad blocker rule(s) and the page will load as expected.