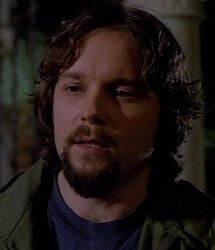 Lenny Zeminski, played by Tracy Fraim, was a recurring character seen on Beverly Hills, 90210, the first series of the Beverly Hills, 90210 continuity. He appears in Season 5.
Lenny was a friend of David Silver, who lived in the same dormitory as he did, but Lenny constantly clashed with Clare Arnold. After a girl was raped on campus, Lenny was deemed as the top suspect due to a past indiscretion during his days in the Army. However, he was released after the girl ruled him out as a suspect.
Lenny later told Brandon Walsh that the police didn't ask him a lot of questions they could have. Apparently, Lenny had been in a military prison with Garrett Slan, who he was certain was the rapist. Garrett was later captured by David Silver and Donna Martin after he tried to rape Donna.
Brandon helped Lenny get a transfer to another college where his past would not be known.
Ad blocker interference detected!
Wikia is a free-to-use site that makes money from advertising. We have a modified experience for viewers using ad blockers

Wikia is not accessible if you've made further modifications. Remove the custom ad blocker rule(s) and the page will load as expected.