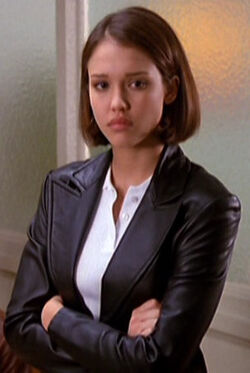 Leanne was a recurring character played by Jessica Alba on Beverly Hills, 90210, the first series of the Beverly Hills, 90210 continuity. She appeared in Season 8.
Leanne was a teenager who came into the Wyatt Clinic in labor. She disappeared after Kelly Taylor had her wait into the exam room. Kelly later found Leanne's baby in a dumpster and turned her over to Pam Ahern at the Wyatt Foundation after approaching Leanne at her home and not having any success in getting Leanne to take responsibility.
Leanne later returned to the clinic, where she found Kelly and Brandon Walsh. She begged Kelly to help her get her baby back after children's services had placed it in the home of a gay couple, Kyle and Gene. Leanne was homophobic and did not approve of her baby being raised with a gay couple. The baby was returned to Leanne by the foundation for a brief amount of time before Leanne returned the baby to Kyle and Glen.
Ad blocker interference detected!
Wikia is a free-to-use site that makes money from advertising. We have a modified experience for viewers using ad blockers

Wikia is not accessible if you've made further modifications. Remove the custom ad blocker rule(s) and the page will load as expected.