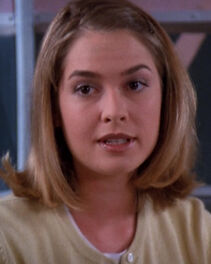 Leah, played in by J. Robin Miller, was a recurring character seen on Beverly Hills, 90210, the first series of the Beverly Hills, 90210 continuity, appearing in the 8th and 9th season.
Leah is first seen when she comes to the Wyatt Clinic for treatment of what she says was a car wreck. However, after Jeff Stockmann treated her, he informed Kelly Taylor that she was beaten by her husband Lenny. Kelly befriended Leah and talked her into joining a woman's shelter to file divorce from her husband.
Leah later went back to Lenny when she found out she was pregnant. Later, when she left him again, he threatened to kill her if she kept him away from their baby. Lenny hired Matt Durning at his attorney for the custody trial.
Brandon Walsh wrote his last article at The Beverly Beat on the couple and their case, which Matt believed to be fair, while Kelly stated it was "too fair".
Lenny later won unsupervised visits with his baby, but Leah was desperate to get him out of her life. After meeting with a counselor, Kelly and Leah began looking into getting a new identity for both Leah and her baby, but Lenny followed them and threatened Leah at the Beach House.
Matt eventually helped her create a new identity and found her a place to live before she disappeared with her daughter.
Ad blocker interference detected!
Wikia is a free-to-use site that makes money from advertising. We have a modified experience for viewers using ad blockers

Wikia is not accessible if you've made further modifications. Remove the custom ad blocker rule(s) and the page will load as expected.