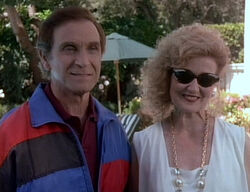 Lawrence and Vivian Carson, played by Peter Mark Richman and Claudette Nevins, are a married couple introduced in the first series of the Beverly Hills, 90210 continuity. they appeared in season 4.
Lawrence and Vivian were the parents of Stuart Carson. Lawrence was a business associate and friend of Jim Walsh and the two set up Stuart with Jim's daughter, Brenda Walsh, on a blind date, which eventually turned into a relationship. Lawrence was hard on his son, always belittling him and worried he would never amount to anything.
Vivian was mostly just seen on Lawrence's arm or talking with Cindy Walsh and had very little storyline impact.
Eventually, after Stuart and Lawrence spent a whole day arguing, Brenda broke up with him and the Carsons were not seen on the show again.
Claudette Nevins also played Constance Fielding on Melrose Place.
Ad blocker interference detected!
Wikia is a free-to-use site that makes money from advertising. We have a modified experience for viewers using ad blockers

Wikia is not accessible if you've made further modifications. Remove the custom ad blocker rule(s) and the page will load as expected.