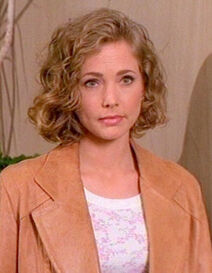 Laurie, played by Justine Priestley, was a recurring character seen in the fourth season of Melrose Place, the second series of the Beverly Hills, 90210 continuity. She appeared in Season 4.
Laurie was an old friend of Sydney Andrews from Chicago. She showed up at the Melrose Place Apartment Complex with her son Tyler after a breakup with her boyfriend Tony. She ended up staying with Jo because Sydney's apartment was already occupied by Bobby Parezi.
As Laurie searched for a job, Jo became concerned that Laurie was abusing Tyler because of a bruise on him. She later sneaked him in to see Dr. Dominick O'Malley while Laurie was at a job interview. However, Dr. O'Malley ruled out abuse.
When Laurie found out Jo took Tyler to the doctor without her knowledge, she was irate and told Jo to stay away from Tyler.
Finally, after being confronted by Dominick and Jo, Justine admitted that her boyfriend, Tony, was the one abusing Tyler and that she was getting Tyler away from him.
Justine Priestley is the real-life twin sister of Jason Priestley.
Ad blocker interference detected!
Wikia is a free-to-use site that makes money from advertising. We have a modified experience for viewers using ad blockers

Wikia is not accessible if you've made further modifications. Remove the custom ad blocker rule(s) and the page will load as expected.