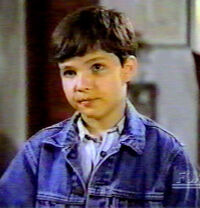 Kyle Carson, played by Trenton Knight, was a recurring character introduced in Models Inc., the third series of the Beverly Hills, 90210 continuity.
Kyle was the adopted son of Paul and Marcia Carson. His biological mother was Carrie Spencer. Kyle was taken away from Carrie at birth and she was told he was stillborn. In reality, Teri Spencer knew he had been adopted by Paul and Marcia, a fact which was later discovered by Carrie.
Carrie came to find Kyle through his father, Paul, and the two of them hit it off until Marcia found out that Paul and Carrie were having an affair. Kyle then confronted Carrie about why her parents were divorcing, but she called Paul and Marcia to come and pick him up.
Ad blocker interference detected!
Wikia is a free-to-use site that makes money from advertising. We have a modified experience for viewers using ad blockers

Wikia is not accessible if you've made further modifications. Remove the custom ad blocker rule(s) and the page will load as expected.