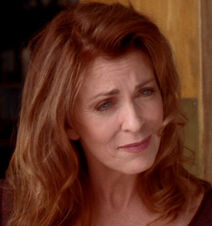 Kate Reilly, played by Joanna Cassidy, was a recurring character introduced in Melrose Place, the second series of the Beverly Hills, 90210 continuity, appearing in season 6.
Kate was the mother of Samantha Reilly, who worked at a crab shack in Maryland. She was first seen when she was contacted by Samantha after the death of Jim Reilly. She wanted nothing to do with Jim's death and told Kate she couldn't be there for her.
Samantha later returned home and began working with mother at the crab shack. When Billy Campbell came looking for her after they had a breakup. Kate was very protective of Samantha and warned Billy to stay away.
When Billy confronted Kate about holding Samantha back, citing Kate as a failure of a mother, Kate pulled a gun on him. Samantha walked in and begged him to go back to Los Angeles. Billy left peacefully. However, after samantha realized Billy was right, she went back to Los Angeles and reunited with Billy.