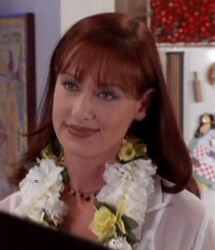 Karen Lewis, played by Lisa Thornhill, was a character seen on Beverly Hills, 90210, the first series of the Beverly Hills, 90210 continuity, seen in the tenth season episode The Loo-Ouch.
Karen was the lesbian girlfriend of Samantha Sanders. She appeared in one episode during a party given by Steve Sanders and Janet Sosna. While she was at the party, she got into a verbal argument with Rush Sanders, who was unaware of Samantha Sanders being a lesbian, much less having a girlfriend.
She was attending the party in Samantha's place, as she was unavailable to attend.
Ad blocker interference detected!
Wikia is a free-to-use site that makes money from advertising. We have a modified experience for viewers using ad blockers

Wikia is not accessible if you've made further modifications. Remove the custom ad blocker rule(s) and the page will load as expected.