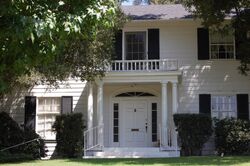 KEG, which stands for Kappa Epsilon Gamma, is a fraternity in the first series of the
Beverly Hills, 90210 continuity
.
It is establish in the fourth season when Steve Sanders pledges there as a legacy and eventually joins the fraternity. Brandon Walsh starts out as a pledge, but decides against joining, leaving Steve the only main cast member to join the fraternity. Although, Brandon Walsh decides against pledging to the fraternity, he is made an honorary member when he tries to warn the fraternity of the progressive party's plan to dismantle the entire Greek system at CU.
Members
Ad blocker interference detected!
Wikia is a free-to-use site that makes money from advertising. We have a modified experience for viewers using ad blockers

Wikia is not accessible if you've made further modifications. Remove the custom ad blocker rule(s) and the page will load as expected.