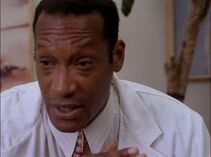 'Dr. Julius Tate', played by Tony Todd, was a special guest star on Beverly Hills, 90210, the first series of the Beverly Hills, 90210 continuity.  He appeared in the episode If I Had A Hammer.
Julius was the doctor that diagnosed David Silver with manic-depression. He evaluated David with caring and sensitive approach to the mental illness. He praised Donna Martin for her support and made David accept that he had this disorder.
He was mentioned by Dr. John Martin as being a closet saxophone player and jazz fan.
Ad blocker interference detected!
Wikia is a free-to-use site that makes money from advertising. We have a modified experience for viewers using ad blockers

Wikia is not accessible if you've made further modifications. Remove the custom ad blocker rule(s) and the page will load as expected.