Ad blocker interference detected!
Wikia is a free-to-use site that makes money from advertising. We have a modified experience for viewers using ad blockers

Wikia is not accessible if you've made further modifications. Remove the custom ad blocker rule(s) and the page will load as expected.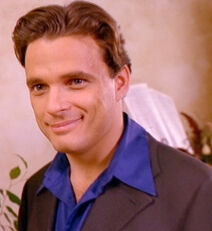 Josh Laughlin, played by Damien Chapa, is a recurring character introduced in Melrose Place, the second series of the Beverly Hills, 90210 continuity, appearing in the fifth season.
Josh was the pimp of Megan Lewis who refused to let her leave the prostitution business to marry Michael Mancini. he showed after a stint in prison and threatened her by saying he'd hurt Michael. However, he decided to manipulate Michael into believing she was turning tricks again.
He then kept hanging around and making Megan worry that he'll ruin her life, only to reveal that Kimberly Shaw was the one who hired him to ruin their marriage.
Josh then set Megan up with an undercover cop and got her arrested on purpose. He was last seen taunting Megan on the streets and telling her that she would never escape the streets.