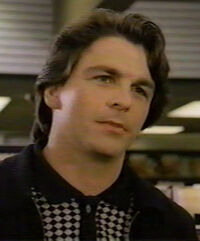 Josh Lange, played by Julian Stone, was a recurring character introduced in Models Inc., the third series of the Beverly Hills, 90210 continuity.
Josh was an arrogant photographer and author who encountered Julie Dante at a book signing. Although he took photos of her, it was quickly revealed by his assistant, John Woo, that all he wanted to do was sleep with her, which he did. Woo informed Julie that there was never any film in the camera during their shoot and Lange brashly told John to take out the trash as he threw her out.
He later resurfaced towards the end of the series when Grayson Louder sent Monique Duran to a shoot where he worked. His first order of business was to tell Monique to strip her clothes off, to which she walked off the set.