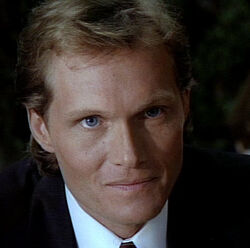 John Rawlings, played by Tom Schanley, was a recurring character seen in the third season of Melrose Place, the second series of the Beverly Hills, 90210 continuity.
Rawlings was a detective with the Los Angeles Police Department. When Matt Fielding was attacked for being gay, Rawlings took it personally because he was gay as well. After Matt informed him that Kimberly Shaw was responsible for the attack, Rawlings confronted her and threatened her if she ever hurt Matt again.
His behavior seemed to disturb Matt and he would constantly try to politely decline Rawlings's invitations. However, he invited Jo Reynolds along on a ride-along so that she could take pictures of the night life in Los Angeles. What she witnessed was him beating a suspect into submission, of which she took pictures.
After Jo was questioned by internal affairs officer Bob Wilkens, Rawlings became unhinged, ransacking Jo's apartment looking for pictures and then confronting her outside of her apartment.
However, after Matt turned photos over to Bob Wilkens, Rawlings stormed into his apartment and pulled a gun on Matt and Jo. He was prepared to kill the both of them, but Jo was able to wrestle the gun away from him in time for Matt to call Wilkens and have him arrested.