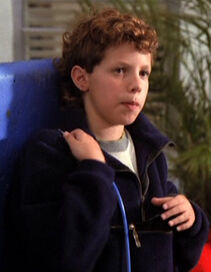 Joey Evers was a recurring character played by Sam Saletta on Beverly Hills, 90210, the first series of the Beverly Hills, 90210 continuity. He appeared in Season 7.
Joey was a runaway who Kelly Taylor found sleeping on the beach. Although he resisted getting to know her, eventually he grew fond of her and stayed with her at the Beach House. However, unable to locate his parents, Kelly had to call the police have him picked up.
However, Joey ran away from the shelter the next morning and showed back up on Kelly's doorstep. Joey felt that since his mom remarried and had a new baby on the way, she didn't care about him anymore. Kelly located Joey's mother and Joey returned home to be with his family.
Ad blocker interference detected!
Wikia is a free-to-use site that makes money from advertising. We have a modified experience for viewers using ad blockers

Wikia is not accessible if you've made further modifications. Remove the custom ad blocker rule(s) and the page will load as expected.