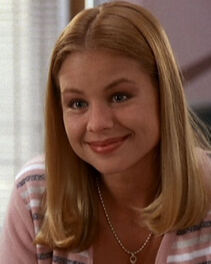 Jody Carlisle, played by Jessica Collins, is a recurring character seen on Beverly Hills, 90210, the first series of the Beverly Hills, 90210 continuity, appearing in the 8th season.
Jody was a woman who had dated Steve Sanders in between season 7 & 8. She arrived on Steve's doorstep and pronounced him as the father of her unborn child. Steve denied that it was his child, but his girlfriend, Carly Reynolds, wasn't so sure.
Later, a paternity test was done to determine whether or not Steve was the father. Steve was not a match and only had a one in five billion chance of being the dad. Steve scolded Jody for lying to him about him being the only guy she was with, but hoped that the real father would do the right thing. Jody stated she was going to tell the real father and left Steve and Carly to celebrate.
Ad blocker interference detected!
Wikia is a free-to-use site that makes money from advertising. We have a modified experience for viewers using ad blockers

Wikia is not accessible if you've made further modifications. Remove the custom ad blocker rule(s) and the page will load as expected.