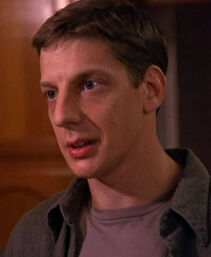 Jimmy Gold was a recurring character played by Michael Stoyanov on Beverly Hills, 90210, the first series of the Beverly Hills, 90210 continuity. He appeared in 3 episodes of Season 7.
Jimmy was a gay AIDS patient at the AIDS hospice where Kelly Taylor volunteered early in Season 7. Having lost his boyfriend, Gordon, to AIDS already, Jimmy was weeks from dying when Kelly started working there. They shared a close bond in his dying days, mostly due to the fact that Jimmy had pushed everyone out of his life before he was preparing to die. Jimmy was an amateur magician and after his swan song, put all his memories away as he looked at Kelly's scrapbook, getting to know about her life.
Jimmy died with Kelly at his bedside.
Ad blocker interference detected!
Wikia is a free-to-use site that makes money from advertising. We have a modified experience for viewers using ad blockers

Wikia is not accessible if you've made further modifications. Remove the custom ad blocker rule(s) and the page will load as expected.