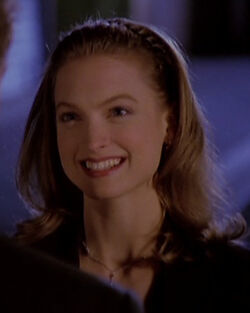 Jill Reiter was a recurring character played by Nicole Forester on Beverly Hills, 90210, the first series of the Beverly Hills, 90210 continuity. She appeared in Season 8.
Jill was a woman who came to town to meet a man, Ted Slavsky, that she had exchanged letters with, but had never met. However, Steve Sanders received the letters and read them, in the process becoming smitten with Jill. The two of them hit it off really well, but after Jill tried to seduce "Ted", Steve felt guilty and excused himself.
When Steve admitted that he wasn't Ted, Jill slapped him because she felt violated that she had read all of her personal letters. Later, however, Steve promised her he would find the real Ted and she allowed him to help her.
However, after Steve introduced Ted and Jill, she found herself missing Steve and eventually came back to him. Later, however, Steve learned that they were not compatible. However, he had never broken up with anyone before and was unsure of how to handle it. He even practiced his breakup speech with Janet Sosna, but was unable to pull it off. In the end, Jill broke up with Steve before had the chance to break up with her, leaving him upset that he never got to break up with anyone before they broke up with him.
Ad blocker interference detected!
Wikia is a free-to-use site that makes money from advertising. We have a modified experience for viewers using ad blockers

Wikia is not accessible if you've made further modifications. Remove the custom ad blocker rule(s) and the page will load as expected.