Ad blocker interference detected!
Wikia is a free-to-use site that makes money from advertising. We have a modified experience for viewers using ad blockers

Wikia is not accessible if you've made further modifications. Remove the custom ad blocker rule(s) and the page will load as expected.
Jamie Walters
is an American actor, singer, firefighter and paramedic. He portrays
Ray Pruit
on FOX drama soap
Beverly Hills, 90210
.
Bio
Jamie Walters was born as James Leland Walters Jr. on June 13, 1969, in Boston, Massachusetts in the USA. Th the age of 12, he got his first guitar, and at the age of 13, he started playing in garage bands. After high scool, he studied film at the New York University and acting at The Actors Space in New York City.[1]
Career
In 1988, Jamie Walters appeared in a series of Levi's commercials. He then moved to Los Angeles where he intended to pursue an acting and musical career. In 1990, he had a small role in the TV movie Everyday Heroes. In 1991, he got a leading role in the movie Shout, together with John Travolta and Heather Graham. He also performed the song Rockin' the Pad on the soundtrack album of the movie.
In 1992, he starred in the TV series The Heights as a member of a rock band. The TV series was abandoned after only 12 episodes. The theme song How Do You Talk to an Angel sung by Jamie Walters, however, was published as a single and became number one on the Billboard Hot 100 on November 14, 1992.
This called the attention of Atlantic Records who signed a recording contract with Walters. In September 1994, they published his self-titled debut album "Jamie Walters". The single "Hold on" from this album reached position 16 on the Billboard Hot 100. in order to promote his album, Walters went on tour through the US. With more than a million copies sold, the album reached platinum status.
In October 1994, Aaron Spelling who also had produced The Heights created the role of Ray Pruit, a carpenter and musician who became the boyfriend of Donna Martin, for his TV series Beverly Hills, 90210 and casted Jamie Walters for this role. Two years later, in November 1996, Walters left the show to concentrate on his career as a musician.
In 1997, Atlantic Records published Jamie Walters's second album "Ride" which was sold more than 500,000 times and thus reached gold status. He published his third album "Believed" in 2002 through the indie label Leisure Records.
In June 2004, Jamie Walters graduated from the Los Angeles City Fire Department Academy. Since then, he is working as a as a full-time firefighter and paramedic for the Los Angeles City Fire Department.
Even if Jamie Walters since then focussed on his career with the Fire Department and on his family, he continued recording music and made some attempts for a comeback. In 2009, he appeared in "Confessions of a Teen Idol", a TV series on VH1 in which teen idols of the 80's and 90's presented themselves and tried to resurrect their careers.
Family
In 1992, Jamie Walters got engaged to Drew Barrymore, but they broke up the engagement in 1993.
In 2002, he married Patty Walters who worked, like himself, as an emergency medical technician. The couple has three daughters. Jamie Walter also has a son from an earlier relationship. Jamie, Patty, and the four children live together in Los Angeles.
Beverly Hills, 90210
In Beverly Hills, 90210, Jamie Walters first appeared in the season 5's episode 5 Rave On. He had recurring appearances throughout season 5 (25 episodes out of 32) and was a main cast member in episodes 1 through 13 of season 6. He later appeared as a guest star in episode 30 Ray of Hope and in the season 7's episode 10 Lost in Las Vegas.
Regarding the reasons he was cast for the show, Jamie Walters said:
"They were looking for someone who could sing to bring something different to the show. I'm lucky because I get to sing my songs." (1995)[1]
Jamie first liked his role and said:
"I like him because he is the most real of anyone on the show. Everyone else is very Beverly Hills - vary glamorous" (1995)[1]
"I like combining acting and music. I also like playing characters that are similar to myself 'cause they're playing my music. It's sort of the best of both worlds." (1995)[2]
However, when his character turned out to become abusive, he quit the show because this image was endangering his musical career. He later said:
"It was like you either have to change the character or you have to let me off the show, because I'm going out and I'm like trying to sell tickets on our tour, and there's like teenage girls out there who think, like they really think I'm an abusive guy you know, and they'd hold up signs saying like 'leave Donna alone' and that's like so not what I wanted." (1999)[2]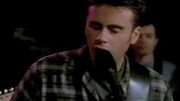 In his role as Ray Pruit, Jamie Walters performed some of the songs which were contained on his albums also in the show.[3]
from Jamie Walters:
from Ride:
Filmography
Movies:
1990 Everyday Heroes as Erik Linderman (TV Movie)
1991 Shout as Jesse Tucker
1992 Bed & Breakfast as Mitch
1994 Vanishing Son II and Vanishing Son IV as Reggie Valmont (TV Movies)
1995 Burnzy's Last Call as Shannon
1996 God's Lonely Man as Hustler
2000 The Mumbo Jumbo as Thomas Doubting
TV series:
1989/92 Quantum Leap as yYoung Max and Al 'Bingo' Calavicci (2 episodes)
1991-1992 The Young Riders as Frank James (3 episodes)
1992 The Heights as Alex O'Brien (13 episodes)
1994-1996 Beverly Hills, 90210 as |Ray Pruit (40 episodes)
1999 To Serve and Protect as Jeremy (2 episodes)
2001 Dead Last as Vance Harmon (1 episode)
2009 Confessions of a Teen Idol as himself (8 episodes)
Discography
Singles (selection):
1992 How Do You Talk to an Angel (No. 1 on the Billboard Hot 100 on November 14, 1992)
1994 Hold On (peak position 16 on the Billboard Hot 100 )
1995 Why
Albums:
1994 Jamie Walters (certified as Platinum Album)
1997 Ride (certified as Gold Album)
2002 Believed
Images
→ see also Jamie Walters/Gallery#Images and Category:Images of Jamie Walters
Videos
→ see also Jamie Walters/Gallery#Videos
References
↑ 1.0 1.1 1.2 Rodolpho, Adolfo; Talboo, A.J.; Jacobs, Adam: Music Lifted TV's Jamie Walters. In: Toledo Blade, April 27, 1995 (online on Google News)
↑ 2.0 2.1 Jamie Walters - Personal Quotes on IMDb
↑ Jamie Walters/Ray Pruit songs performed on en.allexperts.com
External links