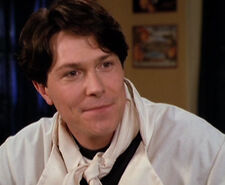 Jacob Wallenfels was a character played by Neil Roberts on Beverly Hills, 90210, the first series of the Beverly Hills, 90210 continuity. He appeared in the two-part Season 8 finale, The Wedding.
Jacob was the British caterer of the wedding between Brandon Walsh and Kelly Taylor. He struck up a friendly relationship with Donna Martin after saving her life when a truck was barreling towards her. She offered him anything he wanted in return and he asked for a date with her. Noah Hunter was not happy about it and suspected Jacob had ulterior motives.
His plan was to make his ex-girlfriend, Phyllis, jealous, but he actually liked Donna after their date and asked if he could see her again. Donna let him down easy and told she was going to stay with Noah. Jacob handled the rejection with class and continued to cater the wedding. He also gave Noah some sage advice over making an effort for the one you love.
Ad blocker interference detected!
Wikia is a free-to-use site that makes money from advertising. We have a modified experience for viewers using ad blockers

Wikia is not accessible if you've made further modifications. Remove the custom ad blocker rule(s) and the page will load as expected.